Transportation
Due to its location along I-10, the area is well served when it comes to mobility. Loop 610 and Beltway 8 provide loops around the greater Houston area, providing access to all parts of the region.
The Metropolitan Transit Authority operates the city bus system – an outstanding public transit system with a fleet of 1,400 buses. It operates five high occupancy vehicle lanes along freeways, the largest barrier-separated system in the world, and has built new roads to ease traffic congestion. Metro also offers light rail in the downtown Houston Area.
Two major airports, George Bush Intercontinental and William P. Hobby, serve the area. Hobby is minutes from the North Channel area. Nine airlines currently fly out of Hobby, with Southwest Airlines serving as the airport's major carrier. Located seven miles from downtown Houston, Hobby's amenities include rental car companies and full service hotels. George Bush Intercontinental Airport is served by more than 20 passenger airlines with 150 destinations throughout the world.
Port Houston Authority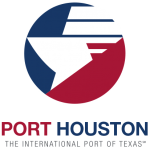 The Port of Houston is one of the largest ports in the world in terms of both foreign waterborne tonnage and total tonnage. Each year, there are about 8,000 vessel calls and 200,000 barge transits through the port, and 100 steamship lines offer service, linking Houston with 1,000 ports around the world. A vital element in the infrastructure of Houston and the region, the port maintains a high level of commercial prominence that solidifies its status as a major gateway to global commerce.
The Port of Houston Authority offers a free 90-minute round-trip tour of the Houston Ship Channel to thousands of visitors aboard the M/V Sam Houston public tour boat. Reservations are required at least 24 hours in advance for the free tours online at www.porthouston.com or call (713) 670-2416, Tuesday through Saturday between 8 am and 5 pm.